We redefine faith through technology and a unique experience where you can give and receive back.
Unum is part of Organism of Modern Works, a Vatican section that takes care of culture, economy, faith, and human being. Our solution is the digital jump of the Catholic Church developed to change Catholicism perception, where all was about giving to God and nothing related to receiving in return.
EARN
Partner System
Our partnership system lets you visit our temples and iconic places to create content. You will receive Unum Currency that can convert into cash and donate to those in need.
PRESERVE
Culture Preservation
With each visit and content created, we will be able to preserve our history, culture, and monuments around, creating closer connections between our devotees, partners, and the marginalized.
GIVE
Contribute to the poorest
Donating is history. Now, for every Unum Currency, you earn, a 15% will go to the neediest in Africa and Asia, promoting the development and expansion of our Catholic faith in the world. You will be our star missionary around the world.
#ImUnum
Followers first
We were born with the obsession to help you grow, help you get income, contribute to the neediest, and increase your faith.
Technology
We developed our technology to easily create content and enter our sites without boring and outdated procedures.
Design
We create simple and intuitive products to remove complexity from our church. No rosaries, no denaries.
Win-Win
We guarantee that the church, our partners, and those in need win. Giving without receiving is the past.
"Now, I can earn money with something I was already doing! It has also help me get back to the Catholic community in a way that is not going to church."
UnumTag
The heavens key
UnumTag is the only way to demonstrate your faith to god. Earn and wear yours, and have easy and quick access to more than 1 billion Catholic places around the world. And just like that, start creating content, be recognized for it, earn and give money for the neediest.
TECH
How it works?
Your Tag sends out WiFi 10 signal that can be detected by our churches and monuments around. Once you arrive, automatically you are checked in on your app, and receive U currency for it, as transparent as air. The whole process is encrypted to protect your privacy. And it's efficient, so there's no need to worry about battery life, data usage or long waiting rows.
COMMUNITY
Be a real Catholic
Unum Tag give recognition worldwide, connect with billions of Unumers, and allows you to visit churches in the most needed places in the world.
MISSIONARY
Help us spreading the faith
With your Unum Tag, creating content is even faster and simple, with no long rows, no waiting, and receiving money back.
UnumApp
Giving & Receiving. In your pocket.
Discover, visit, keep track and earn U currency visiting and creating content from our different churches & museums in the world.
DISCOVER
Select a place, travel, and receive.
Explore more than 1 billion catholic places around the world. Select one, begin your journey, create content, and be paid for it.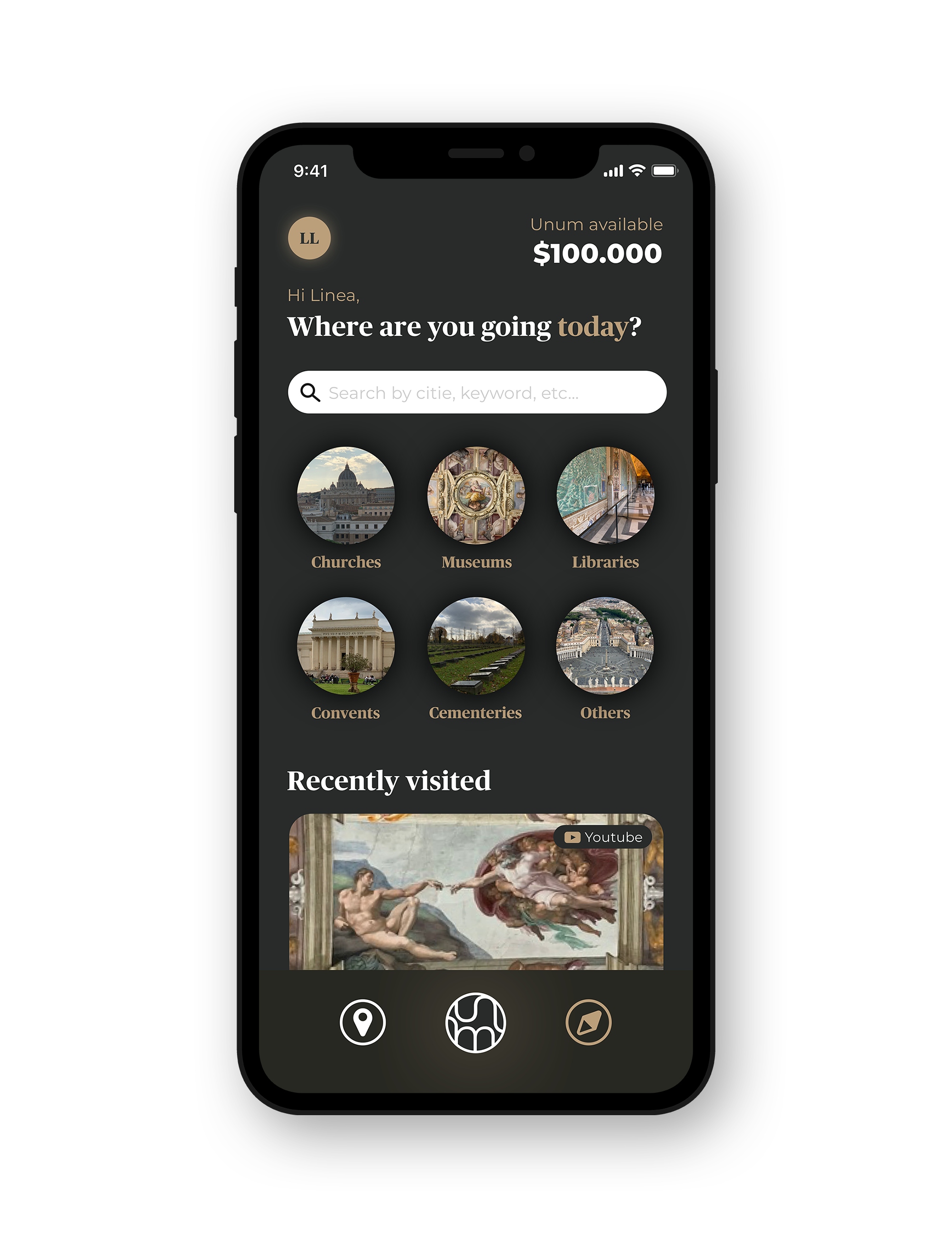 CREATE
Be our star missionary
Once on the places you visit, start creating content on the platform that you love the most, help us to spread our culture and faith, and become a Catholic rockstar.
DISCOVER
Review others content
Bless, comment and share others content. Stay up to date with the Unumers community and discover new places to visit and donate worldwide.
U Currency
Helping us. Helping you. Helping the neediest.
We understood the importance of preserving our history and helping others, without affecting our follower's finances. U Currency is the step forward for our catholic faith to make us stronger and bigger. Visiting and creating content in all our places not only give you money as a reward, but you are also contributing to the maintenance of our culture, and helping the most needed, growing our followers and faith worldwide.
EARN
Create content. Improve your finances.
Each visit and content you create, generates U currency that we use in stocks to improve your finances. Its like air, you just earn it.
PRESERVE
Help us preserving our places.
Once we have your currencies, we speculate in stocks and use a small percentage of the money to improve our places worldwide.
DONATE
Give back to the neediest
And we also have U currency to help people in Africa and Asia. Each place you visit, allow us to use 15% of the money to help them, growing up the Unumers of the future.